Handling Objections
Clients Objections are always bothering salesmen, But professional sales Reps know well that objections are the preliminary indicator that shows us a hidden client
Course Details
Clients Objections are always bothering salesmen, But professional sales Reps know well that objections are the preliminary indicator that shows us a hidden clients' interest. In this course we will highlight the proper psychological tricks to discover & handle doctors' objections.
1- Identifying Negative Attitude Types (Objection, Resistance)
2- How To Deflating Objections (Bridging Techniques)
3- Handling Negative Attitude
Number of lectures

2

Number of hours

01:55:21
Course Topics
---
Course Instructor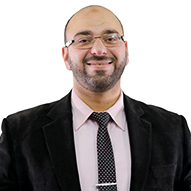 Dr. Mostafa graduated with Bachelor of Pharmacy from Alex University, Egypt.
He obtained a lot of certificates and licenses like MBA Instructor, Export Professional, accredited marketing consultant and accredited delegate in Egypt from Birmingham College, UK.
He is MBA instructor in many organizations like Boston University – John Saluston UK, Birmingham College UK, Victoria Business College, European Business School ,Future University in Egypt and more.
He is corporate trainer in in many organizations like Hikma Pharma, Global Napi Pharma, Merz Pharmaceutical, Pharmalys Laboratories, Brands cosmeceutical and Epiderm.
His most recent role was as marketing & export Head at Xchange Egypt for Global Trade & Franchising.
---